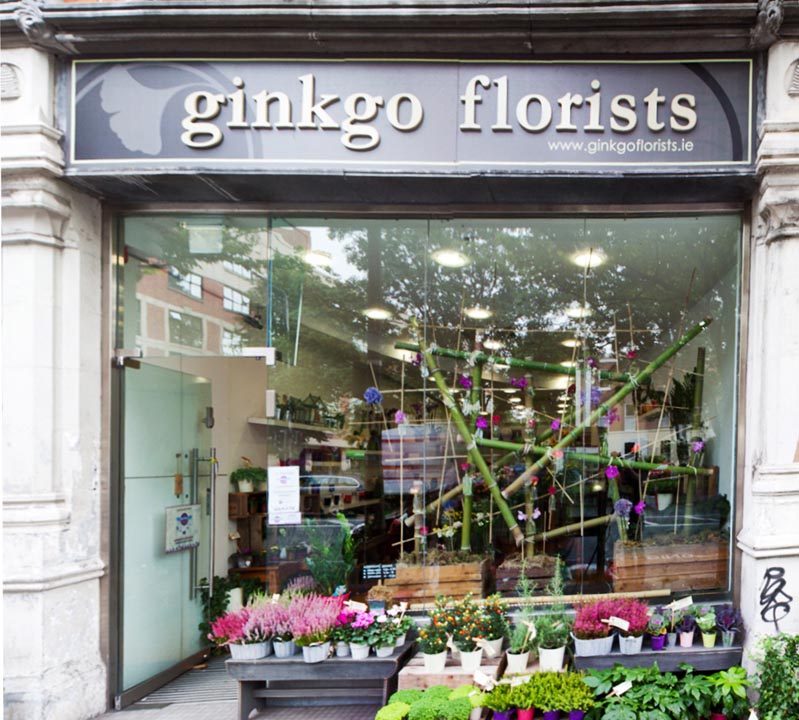 Ginkgo Florists are passionate about providing great service.
All our arrangements are created in our store and we select only the freshest blooms to go into our bespoke bouquets.
Drop in for a chat at our store on Baggot Street or contact us today.
Opening Hours
Monday-Wednesday 9:30-6:30pm
Thursday-Friday 9:30-7pm
Saturday 10-6:30pm
Our Most Popular Items from our Online Shop
What Our Customers are Saying
"The inside is so beautifully decorated. If you are at all feeling down, or need a pick me, simply walk past the store (or go inside if it's a serious case of the blues)
…I chatted with the woman behind the front counter, and she gave me some great advice on how to take care of my new Orchid plant I'm attempting to foster back to life.
…Happy to see such a gorgeous store opening where I can see all the beautiful flowers as I walk by each day (although, this could prove dangerous to my wallet in a few weeks' time…)" Nikki P.
"I may know next to nothing about flowers but I know a fantastic customer experience when I see one…I bought a lovely succulent/money plant and with her precise care instructions I was back barely a month later to ask for advice on how to re-pot him as he'd grown quite substantially, not to mention beautifully." Sarah T.
"Of course I have not forgotten my own mothers birthday… what kind of bad monsterish son do you take me for?
Q quietly sidles into nearest florist on Baggott street.
I am greeted by a lovely lady who firmly and patiently tells me that every bouquet of flowers i point to has been pre ordered and paid for…. In advance… by organised people (quite possibly good sons).
She promises to "put together something beautiful" in less than 10 mins.
She delivers the goods in less than 10 mins, they are indeed beautiful." Quentin D.
"Ginkgo Florists always amaze me on how they create such interesting and different displays every week for our hotel lobby and restaurant.  Their arrangements are really quirky which suits our brand and our guests are always taking pictures of them.  We are a design led luxury hotel and Bronagh at  Ginkgo Florists just adds that extra touch of finesse to complete our look.  We would recommend Ginkgo to anyone looking for a creative and innovation flower display." Barry Francis
Follow Us On Facebook and Twitter