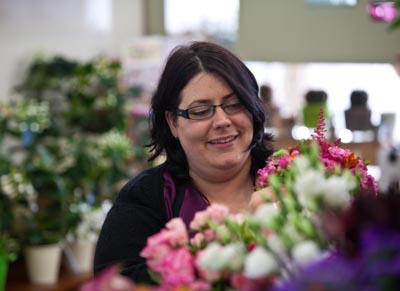 Bronagh Harte has a First Class Honours Horticulture Degree from WIT. With a decade's experience in horticulture and floriculture, Bronagh has branched out with her own boutique, bringing a new sense of style to Dublin.
It is a little shop with big personality, a place that stands out from the world of big chains and franchises. A place flower-lovers can pop in to chat about their garden or just to see what's new.
To learn more about plants and flowers, and our special offers, check out our facebook page.
View Bronagh Harte on LinkedIn
I stumbled upon this place while walking around and running errands on Baggot Street. I had seen signs that a new shop was going into this spot soon, and all of the sudden, "BOOM"! It opened! I'm quite a sucker for plants and flowers, so I went in to see what they had and ended up leaving with a nice little flowering plant to brighten up my apartment. Only 4.50 euros! Not a bad price to add some colour to my living room! The inside is so beautifully decorated. If you are at all feeling down, or need a pick me, simply walk past the store (or go inside if it's a serious case of the blues)
I chatted with the woman behind the front counter for a little while, and she gave me some great advice on how to take care of my new Orchid plant I'm attempting to foster back to light. She also explained that very soon they are hoping to sell plant food for indoor plants.
Happy to see such a gorgeous store opening where I can see all the beautiful flowers as I walk by each day (although, this could prove dangerous to my wallet in a few weeks time…) Nikki P.
Of course I have not forgotten my own mothers birthday… what kind of bad monsterish son do you take me for?
Q quietly sidles into nearest florist on Baggott street.
I am greeted by a lovely lady who firmly and patiently tells me that every bouquet of flowers i point to has been pre ordered and paid for…. In advance… by organised people (quite possibly good sons).
She promises to "put together something beautiful" in less than 10 mins.
She delivers the goods in less than 10 mins, they are indeed beautiful.
Ok, not the cheapest florist but lovely and obliging and worth stopping into when the need arises.
Quentin D
With the goal of not killing an orchid I just received I went in here for some feed. I found a knowledgable florist, good customer service and perhaps most importantly orchid feed. The owner also had some roses which were slightly too wilted for a bouquet so she gave them to me because she didn't like the idea of throwing them out, very sweet.. Nithin T
Darn it, I may know next to nothing about flowers (hence my visit here) but I know a fantastic customer experience when I see one.
First of all, this shop is just so beautiful, the displays the owner has outside so inviting (including small pots of lavender with signs saying 'Smell Me' which I never ignored), I was just looking for a reason to get over my fear of people who can manage to keep plants alive, and take a wander inside.
It finally happened when I killed my third plant, a cactus; I pretty much forced myself to ask the owner for an intervention. She walked me through the shop, giving me the lowdown on all the plants and specific instructions for their care. Given my confessed history (which she was very non-judgemental about) she made several good recommendations for plants that I could probably be successful with fourth time around. It was like match making.
I bought a lovely succulent/money plant and with her precise care instructions I was back barely a month later to ask for advice on how to re-pot him as he'd grown quite substantially, not to mention beautifully. She even supplied me with a larger plastic pot for this purpose for free.
I'm really excited about my next purchase from here but I suppose I should let my little plant enjoy some undivided attention a bit longer – just in case. Sarah T